Why Suffer with TMJ – Free Yourself from Pain
You may not realize what is causing the dental problems you are experiencing. There are a number of common signs that would tell us that you have more than a toothache that needs a filling.  Some of the signs include:
Excessive tooth wear
Tooth breakage
Tooth loss
Previous root canals
Tooth sensitivity
Head and neck muscle pain
Headaches
Jaw joint pain (TMJ)
Joint noises
Providing the proper treatment that resets your system will prevent chronic headaches, Temporomandibular joint disorder (TMJ, TMD), muscle pain, loose tooth or tooth lose.
What we do at Maurstad Dentistry is diagnose and let you decide how best to proceed. Our role is to provide you with the best of care for your good health. What we do:
Bite and Joint Examination and Diagnosis
Specialist Involved Team Dentistry for Coordination and Successful Result
Joint Stabilization
Establishment of Proprieoceptive Anterior Guidance
Partial Mouth Rehabilitation at Stable Joint Position
Full Mouth Rehabilitation at Stable Joint Position
Be sure to call us at (402) 895-0220, if you have any dental related questions or to schedule an appointment!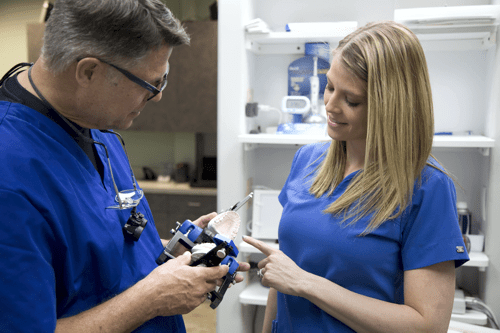 There are a number of reasons my family keeps going back to Maurstad Dentistry. What we like most is that Dr. Maurstad takes the time to explain why a procedure or treatment is needed and makes sure everyone is comfortable before anything happens and then follows up to make sure everything went smoothly.
We also value the whole process. Every other dental office I've been to has made me wait in the waiting room because of double and triple booking appointments. I used to have to take a half day off of work just to get my teeth cleaned. Now, if I show up for my appointment on time, I'm in and out and back to what I want to be doing. If only I can find a general practitioner that is as good as Maurstad Dentistry!